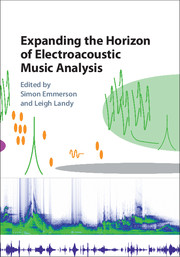 Innovations in music technology bring with them a new set of challenges for describing and understanding the electroacoustic repertoire. This edited collection presents a state-of-the-art overview of analysis methods for electroacoustic music in this rapidly developing field. The first part of the book explains the needs of differing electroacoustic genres and puts forward a template for the analysis of electroacoustic music. Part II discusses the latest ideas in the field and the challenges associated with new technologies, while Part III explores how analyses have harnessed the new forces of multimedia, and includes an introduction to new software programme EAnalysis, which was created by the editors as the result of an Arts and Humanities Research Council grant. The final part of the book demonstrates these new methods in action, with analyses of key electroacoustic works from a wide range of genres and sources.
Purchase paperback or ebook version from Cambridge University Press or Amazon.
Part I. Setting the Scene: Introduction Simon Emmerson and Leigh Landy
The analysis of electroacoustic music – the differing needs of its genres and categories Simon Emmerson and Leigh Landy
Part II. Ideas and Challenges
Listening and meaning: how a model of mental layers informs electroacoustic music analysis Gary Kendall
Forming form John Young
Interactive and generative music: a quagmire for the musical analyst Michael Young
Some ideas concerning the relationship between form and texture Raúl Minsburg
Part III. Harnessing New Forces
Exploiting computational paradigms for electroacoustic music analysis Tae Hong Park
OREMA – an analytical community Michael Gatt
EAnalysis: developing a sound-based music analytical tool Pierre Couprie
Part IV. Analyses of Key Works
Trevor Wishart's Children's Stories II from Encounters in the Republic of Heaven: an analysis for children of a sample-based composition Leigh Landy
Analysis of Foil by Autechre (from Amber (1994)) Ben Ramsay
Temporal recurrence in Andrew Lewis's Penmon Point Ambrose Seddon
Michel Waisvisz: No Backup/Hyper Instruments John Ferguson
Analysing sound art: Douglas Henderson's Fadensonnen (2009) Kersten Glandien
Analysing the identifiable: cultural borrowing in Diana Salazar's La voz del fuelle Manuella Blackburn
Kireek 2011 championship routine analysis Sophy Smith
The analysis of live and interactive electroacoustic music: Hans Tutschku – Zellen-Linien (2007) Simon Emmerson
Audio only computer games – Papa Sangre Andrew Hugill and Panos Amelides
Some questions around listening: Vancouver Soundscape Revisited by Claude Schryer Katharine Norman.